Charlie
Charlie strayed into my family during my late teenage years. He got along well with Wiggy, who had recently lost his sister. Charlie was even very similar to Wiggy, in both his appearance and his personality.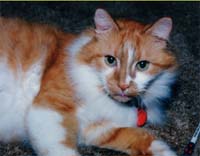 So when Wiggy departed a few years later, Charlie became my new sidekick. He was with me as I completed high school and left our home in Maine for college in Florida. And when I returned home for visits, he was always waiting for me.
Finally, when I had graduated from college, and married, and moved into a house of my own (these three things happened rather quickly), I decided I needed a cat of my own! And Charlie, who had recently been afflicted with an unwelcome housemate (Jack), was taking a strong stand for independent living. (In other words, he started spraying in the house after Jack joined my parents' household.)
Therefore, Charlie took a plane trip and joined me and my husband, Michael, in Palm Bay, FL.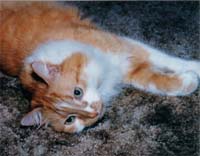 Charlie managed the plane trip well enough, adjusted readily to the Florida weather, and enthusiastically resumed his former role of "only cat in the house."
Charlie remained with us through a move to an apartment in Orlando, and then endured another plane trip when Mike and I moved to Delaware, then a couple more local moves. Poor Charlie - all this moving around may have eroded his sanity: he progressively became needy and paranoid, a condition that was probably exacerbated by our frequent traveling at that time.
Fortunately, we found a wonderful pet sitter, Sharon, in Delaware, who came to our apartment daily to care for Charlie while we were traveling. Sharon loved Charlie and offered to adopt him. After some thought, Mike and I agreed, deciding that he would be happier and more stable with Sharon.
I have since lost touch with Sharon, but I like to think that Charlie is still with her, happy and healthy.