Blondie
Blondie joined my family when I was around 10 years old (I think). We adopted her from one of my mother's work friends who could no longer keep Blondie and her brother, Wiggy.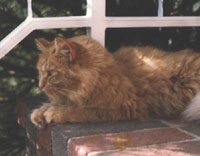 Initially, my mom only wanted one cat, but her friend convinced her to take both cats, since the two were used to being together.
Unlike her brother, Blondie was delicate (more hair than cat) and reserved. Blondie never thought much of me, but she bonded very strongly with my mother.
Despite her lady-like qualities, Blondie was an avid hunter. She spent her time outdoors ranging through the woods and gully behind our southern Maine home, often returning with hapless chipmunks and small birds.
She must have ranged too far one night: several years after we adopted her, Blondie didn't come home. We'll always remember her.