Sophie
Sophie joined my parent's household a year or two ago, under somewhat "suspicious" circumstances. For a couple years after Jack passed on, my parents were catless. During this time, they sold the house in Maine where I grew up, and moved to a condo community in a neighboring town.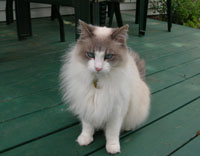 Shortly after my parents moved into their new condo, Sophie began visiting. Thinking that she was a stray, my mother put out food and started getting to know Sophie. These visits progressed to inside visits, and Sophie was more and more frequently found on the sunroom sofa, in the living room easy chair, or on the guest room bed.
Finally, my mother decided to "officialize" the adoption with a visit to the vet for a checkup and shots.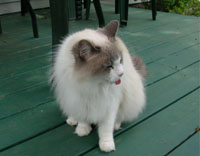 The vet found an electronic tag in Sophie's ear. The tag contained contact information for Sophie's former owner, with an address in the SAME condo community as my parents. And that address was STILL the current residence of the owner. It turned out that Sophie's "former" owner was in fact her "current" owner, who Sophie had been two-timing!
Fortunately, Sophie's owner (whose name I don't remember) didn't mind Sophie's promiscuous behavior. For a while, Sophie stayed at my parents' house in the daytime (they were already retired, so were home during the day). Then every evening, my mother put Sophie out on the porch, to be summoned home by her first owner.
This shared guardianship continued until Sophie's other owner moved away, and elected to leave Sophie in my parents' care. Sophie is still happy and healthy today, living comfortably with my parents, who are now her sole owners - as far as they know...